The Settings application in Windows 10 contains a wealth of useful features and options. Settings are where most of the changes in Windows 10 will be made. From the Start Menu, you can easily access the Settings app, but there are also ways to access specific pages within the app directly. By using this method, you can create a shortcut that opens directly to the Settings page you use most often.
Wanna see Windows 10's Bluetooth & other devices, your network status, you can even manage your Microsoft account by clicking on an icon on your desktop. It's really not that difficult to do. In this post, you will be shown the easiest way to place an icon on your Windows 10 desktop that opens a Settings page, where you can modify a setting in a snap.
We will be using two items, a Settings shortcut called the ms-settings command or URI and the Create a shortcut app on the desktop. This tip could not be simpler.
The uniform resource identifier (URI) schemes for the Settings app is displayed at the bottom of this article.
Create a Custom Settings Shortcut in Windows 10
Right click or press and hold any blank place on the Windows 10 Desktop and select New and Shortcut.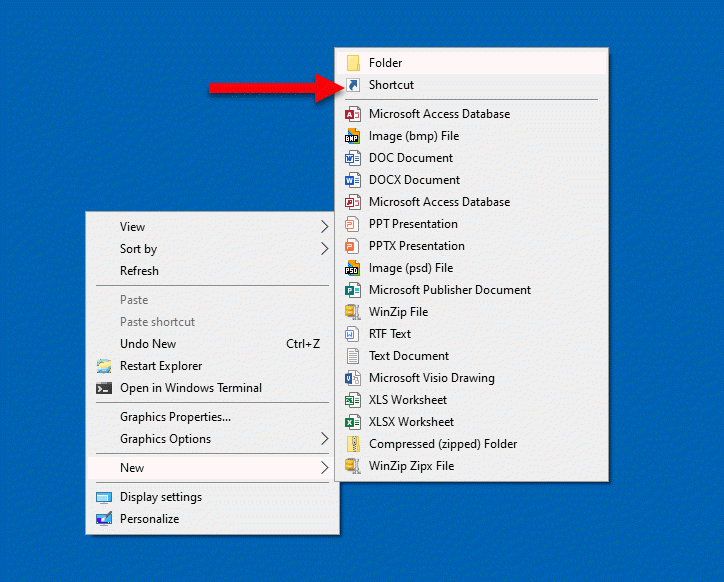 Copy and paste the explorer ms-settings: location into the location area. I will be using ms-settings:dateandtime, and select Next.
Type anything you would like for the name, I have chosen dateandtime, and then select Finish.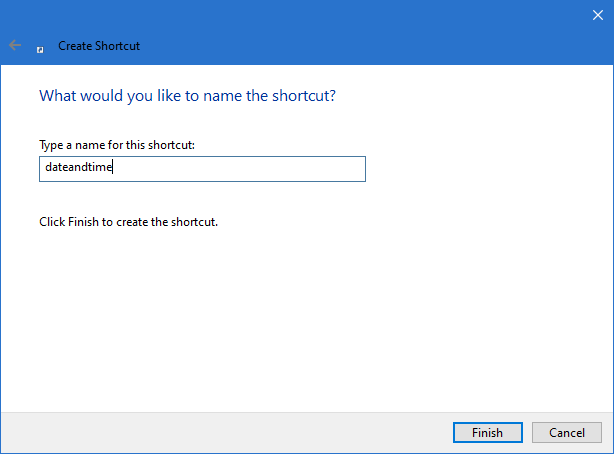 A new shortcut appears on your desktop.
When you double-click it, the Settings app will open and take you directly to the page you selected.
Windows 10 Settings Uniform Resource Identifiers
ACCOUNTS
Settings page
URI
Access work or school
ms-settings:workplace
Email & app accounts
ms-settings:emailandaccounts
Family & other people
ms-settings:otherusers
Set up a kiosk
ms-settings:assignedaccess
Sign-in options
ms-settings:signinoptions
ms-settings:signinoptions-dynamiclock
Sync your settings
ms-settings:sync
Your info
ms-settings:yourinfo
APPS
Settings page
URI
Apps & Features
ms-settings:appsfeatures
App features
ms-settings:appsfeatures-app
Apps for websites
ms-settings:appsforwebsites
Default apps
ms-settings:defaultapps
Startup apps
ms-settings:startupapps
Video playback
ms-settings:videoplayback
DEVICES
Settings page
URI
AutoPlay
ms-settings:autoplay
Bluetooth
ms-settings:bluetooth
Connected Devices
ms-settings:connecteddevices
Mouse & Touchpad
ms-settings:mousetouchpad
Pen & Windows Ink
ms-settings:pen
Printers & scanners
ms-settings:printers
Touchpad
ms-settings:devices-touchpad
Typing
ms-settings:typing
USB
ms-settings:usb
EASE OF ACCESS
Settings page
URI
Audio
ms-settings:easeofaccess-audio
Closed captions
ms-settings:easeofaccess-closedcaptioning
Color filters
ms-settings:easeofaccess-colorfilter
Cursor & pointer size
ms-settings:easeofaccess-cursorandpointersize
Display
ms-settings:easeofaccess-display
Fonts
ms-settings:fonts
High contrast
ms-settings:easeofaccess-highcontrast
Keyboard
ms-settings:easeofaccess-keyboard
Magnifier
ms-settings:easeofaccess-magnifier
Mouse
ms-settings:easeofaccess-mouse
Narrator
ms-settings:easeofaccess-narrator
Speech
ms-settings:easeofaccess-speechrecognition
GAMING
Settings page
URI
Broadcasting
ms-settings:gaming-broadcasting
Game bar
ms-settings:gaming-gamebar
Game DVR
ms-settings:gaming-gamedvr
Game Mode
ms-settings:gaming-gamemode
Playing a game fullscreen
ms-settings:quietmomentsgame
Xbox Networking
ms-settings:gaming-xboxnetworking
NETWORK AND INTERNET
Settings page
URI
Airplane mode
ms-settings:network-airplanemode
ms-settings:proximity
Cellular & SIM
ms-settings:network-cellular
Data usage
ms-settings:datausage
Dial-up
ms-settings:network-dialup
Ethernet
ms-settings:network-ethernet
Manage known networks
ms-settings:network-wifisettings
Mobile hotspot
ms-settings:network-mobilehotspot
NFC
ms-settings:nfctransactions
Proxy
ms-settings:network-proxy
Status
ms-settings:network-status
ms-settings:network
VPN
ms-settings:network-vpn
Wi-Fi
ms-settings:network-wifi
Wi-Fi Calling
ms-settings:network-wificalling
PERSONALIZATION
Settings page
URI
Background
ms-settings:personalization-background
Choose which folders appear on Start
ms-settings:personalization-start-places
Colors
ms-settings:personalization-colors
ms-settings:colors
Lock screen
ms-settings:lockscreen
Personalization (category)
ms-settings:personalization
Start
ms-settings:personalization-start
Taskbar
ms-settings:taskbar
Themes
ms-settings:themes
PRIVACY
Settings page
URI
Account info
ms-settings:privacy-accountinfo
Activity history
ms-settings:privacy-activityhistory
App diagnostics
ms-settings:privacy-appdiagnostics
Automatic file downloads
ms-settings:privacy-automaticfiledownloads
Background Apps
ms-settings:privacy-backgroundapps
Calendar
ms-settings:privacy-calendar
Call history
ms-settings:privacy-callhistory
Camera
ms-settings:privacy-webcam
Contacts
ms-settings:privacy-contacts
Documents
ms-settings:privacy-documents
Email
ms-settings:privacy-email
Eye tracker
ms-settings:privacy-eyetracker
Feedback & diagnostics
ms-settings:privacy-feedback
File system
ms-settings:privacy-broadfilesystemaccess
General
ms-settings:privacy or ms-settings:privacy-general
Inking & typing
ms-settings:privacy-speechtyping
Location
ms-settings:privacy-location
Messaging
ms-settings:privacy-messaging
Microphone
ms-settings:privacy-microphone
Motion
ms-settings:privacy-motion
Notifications
ms-settings:privacy-notifications
Other devices
ms-settings:privacy-customdevices
Phone calls
ms-settings:privacy-phonecalls
Pictures
ms-settings:privacy-pictures
Radios
ms-settings:privacy-radios
Speech
ms-settings:privacy-speech
Tasks
ms-settings:privacy-tasks
Videos
ms-settings:privacy-videos
Voice activation
ms-settings:privacy-voiceactivation
SYSTEM
Settings page
URI
About
ms-settings:about
Advanced display settings
ms-settings:display-advanced
App volume and device preferences
ms-settings:apps-volume
Battery Saver
ms-settings:batterysaver
Battery Saver settings
ms-settings:batterysaver-settings
Battery use
ms-settings:batterysaver-usagedetails
Clipboard
ms-settings:clipboard
Display
ms-settings:display
Default Save Locations
ms-settings:savelocations
Display
ms-settings:screenrotation
Duplicating my display
ms-settings:quietmomentspresentation
During these hours
ms-settings:quietmomentsscheduled
Encryption
ms-settings:deviceencryption
Focus assist
ms-settings:quiethours
ms-settings:quietmomentshome
Graphics Settings
ms-settings:display-advancedgraphics
Messaging
ms-settings:messaging
Multitasking
ms-settings:multitasking
Night light settings
ms-settings:nightlight
Phone
ms-settings:phone-defaultapps
Projecting to this PC
ms-settings:project
Shared experiences
ms-settings:crossdevice
Tablet mode
ms-settings:tabletmode
Taskbar
ms-settings:taskbar
Notifications & actions
ms-settings:notifications
Remote Desktop
ms-settings:remotedesktop
Power & sleep
ms-settings:powersleep
Sound
ms-settings:sound
Storage
ms-settings:storagesense
Storage Sense
ms-settings:storagepolicies
TIME AND LANGUAGE
Settings page
URI
Date & time
ms-settings:dateandtime
Region
ms-settings:regionformatting
Speech
ms-settings:speech
UPDATE AND SECURITY
Settings page
URI
Activation
ms-settings:activation
Backup
ms-settings:backup
Delivery Optimization
ms-settings:delivery-optimization
Find My Device
ms-settings:findmydevice
For developers
ms-settings:developers
Recovery
ms-settings:recovery
Troubleshoot
ms-settings:troubleshoot
Windows Security
ms-settings:windowsdefender
Windows Update
ms-settings:windowsupdate
ms-settings:windowsupdate-action
Windows Update-Advanced options
ms-settings:windowsupdate-options
Windows Update-Restart options
ms-settings:windowsupdate-restartoptions
Windows Update-View update history
ms-settings:windowsupdate-history